If you're looking for just another motivational speaker, they are easy to find. Change goes far beyond motivation. Doug Grady understands what it takes to shift a habit, a lifestyle, a company and a culture.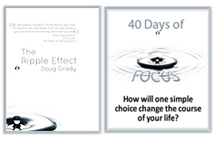 "Our investment in Doug Grady has paid for itself many times over. Doug's work is a HOMERUN!"
James L. Cook
CEO, National Financial Services Group
To subscribe to Doug's Blog, enter your Email, First Name and Last Name below.