The Ripple Effect
Consider your life as a series of ripples. The experiences in your life and your response to them have led you to exactly where you are now. It is not an accident. One simple choice can change the course of your life. What others are saying:
"This enjoyable, insightful book shows you how to remove the obstacles that can be holding you back from achieving unlimited success." –Brian Tracy, Author
No Excuses –The Power of Self Discipline "If you're ready to let go of what's not working in your life and start embracing who you are at your best, this is the book which will empower you to get there. By absorbing and implementing Doug Grady's insight into how making one simple choice can change the course of your life, you can begin living the life you really want to live!" –Ivan Misner, Ph.D., NY Times Bestselling Author and Founder of BNI®
"The Ripple Effect has the power to transform your life. The lively, practical and personal way that Grady shares his life experiences is far more than another checklist of good ideas. Rather, the poignant integration of mind/body/spirit combined with the application of the exercises can actually help you discover your life's purpose." –Andrew Crowell, Managing Partner, Crowell, Weedon & Co.
"The Ripple Effect is a real-world, highly effective flight plan for breaking performance barriers in your life. If you're looking to reach new heights, read this book, implement its suggestions, and let Doug Grady be your wingman!" –Lt. Col. Rob "Waldo" Waldman, Author of the national bestseller, Never Fly Solo
"The Ripple Effect is a user-friendly guide to the life you've always wanted." –Dan Lier, Author, The 10 Minute Coach
"Grady's advice to make one small improvement at a time is inspired. Too often books ask you to make big, dramatic changes that set you up for failure. But this book is different. You won't be overwhelmed but rather compelled to be your best self. Highly recommended." –Michael Port, NY Times Bestselling author, The Big Manifesto
"The Ripple Effect is the very best book ever written to help one uncover what is holding them back, stay committed and how to reach their potential. Doug's style powerfully delivers the elegant, but potent answers to our biggest questions." –Peter Montoya, Entrepreneur and Author, The Brand Called You
"The Ripple Effect is a dynamite book full of compelling stories that will inspire you to reach your true potential. Its powerful ideas will teach you to embrace life's ups and downs and use them as stepping stones for great success. Read this book now to catapult yourself to greatness." –David Alexander, Co-author of the bestseller, Networking Like a Pro
"I believe a truly successful person produces ripples in the lives of others. That's why I encourage you to read this book and let Doug Grady not only create a ripple in your life but inspire you to create ripples in the lives of others." –Jon Gordon, Best-selling author, The Energy Bus and The Seed
"Do it anyway! Great book on how to work toward your goals. Take Doug's "40 Days of Focus" to make a big ripple in your life." –Hugh Grey
"The Ripple Effect is an awesome read, simple, easy and extremely motivational. A game changer for sure. Great for an individual or group study." –Kristina Magic
For more reviews and to purchase on Amazon click HERE.
Or to purchase via PayPal:
40 Days of FOCUS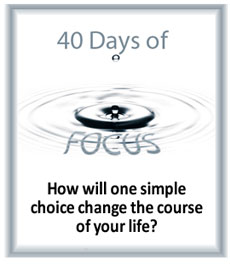 Participants choose one personal discipline and engage in it for a minimum of 40 Days.
What you can expect:
FOCUS: clarity in your choices and a more definite sense of purpose
A breakthrough in your personal integrity
Increased productivity
A deeper understanding of yourself and how to create the life you want
A ripple effect producing breakthroughs in every significant area of your life
Distinguishing characteristics: Daily accountability, daily messaging, community. 40 Days of FOCUS is fully automated and available on demand. It consists of 43 consecutive daily emails.
The first email distinguishes "Criteria of Choice" for the 40 Days. The second daily email explains the promises, process and design of the program. The third daily email is "Day 1" of 40 Days of FOCUS.
Beginning Day 1, daily email contains:
Message of the day
Video of the day
Question of the day
I DID IT accountability button (trackable)
Link to private online community
Deep Dig on Day 10, 20, 30, and 41
Access to support from graduates and program leaders
To subscribe to Doug's Blog, enter your Email, First Name and Last Name below.